Learn to Hula Hoop with RoRo!
It is time to up your hoop game. Hoop into Action with Our Classes!
Are you ready to dive into the captivating world of flow arts and beyond? Welcome to a hub of circus-inspired dance and fitness classes that revolve around the mesmerizing art of hooping. Whether you're into single, double, or multi-hoop maneuvers, we've got something for everyone, regardless of your age or skill level.
Master Your Flow
Our classes are tailored to help you master the intricate moves you've always yearned to conquer. Whether you're a newbie or a seasoned enthusiast. It's time to stretch your boundaries, enhance your core skills, and explore the endless possibilities within the hoop.
Unleash Your Potential
We believe in making learning accessible to all, which is why we offer downloadable classes and exclusive bundles in our Shop or routine on Deda on demand. Take charge of your learning experience and watch your skills flourish.
Embrace your inner artist, indulge in the world of circus, dance, and fitness, and make your dreams a reality. Whether you're looking to learn, train, or simply have a blast, we're here to help you make it happen. We can also be booked for classes/workshops and you can find info under Our Services.
Don't miss out on this exhilarating journey. Join us and let the magic of the hoop transform your life.
Hula Hoop classes in Nottingham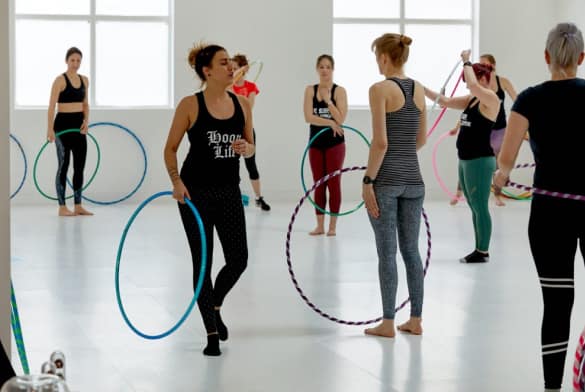 Beginners Classes
This is an incredible chance to dive into hula hooping and discover something new whether you are starting out or have attended workshops before. Unlock your full hula hoop potential by picking up the fundamentals and a few impressive tricks. Want a workout, an energising flow, or some circus fun?
£10
1 Hoop – Beginners.
This block will allow you learn and enhance the art of hula hooping, whether you are looking for fitness, a new hobby or to become a performer. We are starting with a 4 weekly sessions to wet your hula hooping appetites!
Beginners weekly classes begin 18th of January 2024
ST LUKE'S CHURCH GAMSTON & BRIDGFORD
Leahurst Road, West Bridgford, Nottingham,NG2 6GL
TRICKY ELBOWS ONLINE HOOP WORKSHOP
This online workshop will explore tricks and concepts involving elbows.
Join me as we flow through moves that are guaranteed to up your hoop game, it is time to level up!
Online via zoom – 11am Greenwich Mean Time (GMT) November 25th 2023
£10





1 Hoop
Online via zoom – 11am Greenwich Mean Time (GMT) November 25th 2023
Confident beginners, intermediate, advanced
Guest Teachers
Not only do we teach our own badass workshops, but we host them too. At Project Hoop we like to give you variety, which is why we host guest workshops with some of the best hoop teachers we can get – historically we have had Rachel Sulivan Dances with Circles, Debby Earle Hulalahoopers, Cahula Hoops, Kay Pink Hoop and Emma Kenna Hooping Mad – watch this space for guest spots as we have plenty to come!
HOOP CLASSES FAQs
You do not need to attend all workshops.
Wear clothes you can move freely in.
Bring some water.
Many of our workshops are beginner friendly.
Our workshops are suitable for advanced.
You can borrow or buy hoops.
On Demand Classes Available too!